---
RESEARCH PROFILE
X-ray structure and activity of biomimetic complexes of Fe, Mn, Ni, Cu with N,O-donor ligands, revealing the catalytic activity. Complexes of Pt/Pd/Ru possessing the anticancer activity. Regulators of human and bacterial adenylate kinase (AK), including ATP/ADP analogs and statins. Structural research on compounds revealing the fluorescence or luminescence in the solid state and solution. Structural research on sulfur- and seleno-organic compounds, with catalytic or anticancer activity. Docking of small molecular ligands to protein targets.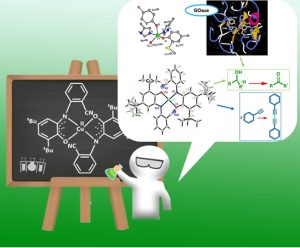 Scientific Collaboration:
Dr Saeed Rayati, Department of Chemistry, K.N. Toosi University of Technology, Tehran, Iran
Dr Elham Safaei, Institute for Advanced Studies in Basic Sciences (IASBS), Zanjan, Iran
Dr Rahman Bikas, Department of Chemistry, University of Zanjan, Iran
Mgr Samaneh Tizhoush,  Prof. Khodayar Gholivand, Department of Chemistry, Tarbiat Modares University, Tehran, Iran.
Prof. dr hab. Joanna Moraczewska, Institute of Experimental Biology, Faculty of Life Sciences,  Kazimierz Wielki University, Bydgoszcz, Poland
Apeiron Synthesis S.A., Wrocław Technological Park, Wrocław, Poland
---
GROUP MEMBERS
Prof. Andrzej Wojtczak, PhD, DSc
email: awojt@umk.pl; phone: +48 56 6114506
Dr Anna Kozakiewicz-Piekarz, PhD
email: akoza@umk.pl; phone: +48 56, 6114511
Karolina Kałduńska, MSc
email: kkaldunska@doktorant.umk.pl; phone: +48 56 6114511
---
PROJECTS, GRANTS, AWARDS
Scientific Papers: 193
Participation: Center of Excellence "Towards Personalized Medicine" operating under Excellence Initiative-Research University (NCU).
Projects:
NCN OPUS 13, nr 2017/25/B/ST4/00376, Design of new small molecular regulators (inhibitors, activators) of the catalytic activity of adenylate kinases. Molecular basis for the mechanism of the regulator action.
NCN PRELUDIUM 13, nr 2014/13/N/ST4/04119, Binding interactions of activators in the bacterial adenylate kinases
Awards (2017-2021): 8 team awards of the Rector of Nicolaus Copernicus University for scientific achievements,
9 awards of the Rector of NCU for high scored scientific papers
---
SELECTED PUBLICATIONS
M. Fandzloch, J. M. Méndez Arriaga, M. Sánchez-Moreno, A. Wojtczak, J. Jezierska, J. Sitkowski, J. Wiśniewska, J. M.l Salas, I. Łakomska (2017). Strategies for overcoming tropical disease by ruthenium complexes with purine analog: Application against Leishmania spp. and Trypanosoma cruzi. J Inorg. Biochem 176, 144-155. IF =3.205
Alaji, Z.; Safaei, E.; Yi, H.; Wojtczak, A.; Cong, H.; Lei, A. (2018). Redox Active Ligand and Metal Cooperation for C(sp2)-H Oxidation: Extension of Galactose Oxidase Mechanism in Water-Mediated Amide Formation. Dalton Transactions, 47, 15293-15297. IF=3.277
R. Gadzała-Kopciuch, K. Kwaśniewska, A. Ludwiczak, P. Skrzyniarz, W. Nowak, A. Wojtczak, B. Buszewski (2019). Towards a new approach for the description of cyclo-2,4-dihydroxybenzoate, a substance which effectively mimics zearalenone in imprinted polymers designed for analyzing selected mycotoxins in urine. Int. J. Mol. Sci. 20, 1588. IF=4.32
M. Nasibipour, E. Safaei, M.S. Masoumpour, A. Wojtczak (2020). Ancillary Ligand Electro-activity effects towards Phenyl acetylene Homocoupling Reaction by a Nickel(II) Complex of a Non-innocent O-amino phenol Ligand: A Mechanistic Insight. RSC Advances, 10 24176-24189. IF= 3.119
K. Kałduńska, A. Kozakiewicz, M. Wujak, A. Wojtczak (2021) Biological inspirations. Iron complexes mimicking the catechol dioxygenases. Materials, 14, 3250. IF=3.057
R. Gawin, A. Kozakiewicz, P. A. Guńka, P. Dąbrowski, K. Skowerski, Bis(Cyclic Alkyl Amino Carbebe) Ruthenium Complexes: A Versatile, Highly Efficient Tool for Olefin Metathesis, Angewandte Chemie International Edition, 56, 981-986, 2017, IF2015 = 11.709, IF5-year = 11.994
R. Gawin, A. Tracz, M. Chwalba, A. Kozakiewicz, B. Trzaskowski, K. Skowerski, Cyclic alkyl amino carbene ruthenium complexes – unprecedented efficiency in macrocyclization and acrylonitrile cross metathesis. ACS Catalysis, 7 (8), 5443-5449, 2017, IF = 10.614
M. Kwiatkowski, A. Wong, A. Kozakiewicz, Ch. Gehring, K. Jaworski. A tandem motif-based and structural approach can identify hidden functional phosphodiesterases. Computational and Structural Biotechnology Journal (2021), vol. 19, 970-975. IF = 7.271
M. Wujak, A. Kozakiewicz, A. Ciarkowska, J.I. Loch, M. Barwiołek, Z. Sokołowska, M. Budny, A. Wojtczak. Assessing the interactions of statins with human adenylate kinase isoenzyme. 1: Fluorescence and enzyme kinetic studies. Int. J. Mol. Sci., (2021), vol. 22, no. 7, 1-19. IF = 5.923,
M. Budny, A. Kozakiewicz, A. Wolan. Electrosynthesis of 1,2,4-triazolium tetrafluoroborates. Org. Lett., (2021) 23, 13, 5123–5127. IF = 6.005